ComTekk SINAD
Distortion Analyzer

Windows 10 ™ compatible
The fast, easy way to align radio communications receivers!
STEP 1: Simply feed receiver's audio into your sound card AUX/LINE or MIC input.
STEP 2: Set transmitter or RF signal generator to desired frequency, modulated with 1KHz tone.
STEP 3: Follow alignment procedure in service manual, adjusting for maximum SINAD reading.
STEP 4: Enjoy an optimized receiver!
---
How it works:
ComTekk SINAD utilizes the latest in Digital Signal Processing (DSP) technology to accurately measure several key performance characteristics of radio receivers by analyzing the spectral content of a received audio signal.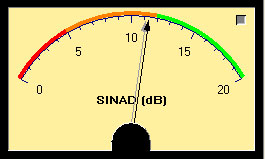 The receiver under test is fed with a calibrated RF signal generator, modulated to about 60% with a 1KHz sinewave tone (usually FM). Receiver audio output is coupled to the computer's sound card where an A/D converter reads the signal's instantaneous voltage 11,025 times per second. This is the sampling rate. With time and magnitude data, the software first processes each batch of samples by applying a band-pass filter or window, thereby ignoring any frequencies outside the range of 300-3,300 Hz. Another filter separates the 1KHz signal from the rest, which is considered noise. Finally, the 2nd and 3rd harmonics are also measured (2KHz, 3KHz) for THD calculations.
SINAD: The most common method used to check receiver performance
SNR: Signal to Noise Radio. Simply, the ratio of desired signal (1KHz) to unwanted signal (noise). The higher the number, the cleaner the signal. Presented in deciBels (dB).
THD: Total Harmonic Distortion. Measures the presence of unwanted harmonics of the input signal. For radio receivers, 10% or less is usually considered good.
THD+N: THD plus Noise. Commonly used benchmark for comparing different receivers.
For more info, see the online User Manual.
Key Features:
Directly measure 1KHz SINAD, SNR, THD and THD + Noise (THD+N).
Allows indirect measurement of Receiver Sensitivity, Adjacent Channel Rejection, Intermodulation Rejection, and Receiver Blocking


Built-in 1KHz sinewave source tone generator.
Easily align radio receivers for optimum performance.
Providing you have access to an RF signal generator, there is No other hardware required. Feed receiver audio directly into computer's sound card.*


No need to purchase & maintain additional test equipment.


Visually monitor receiver's output with built-in audio spectrum analyzer.


Do all of this with an ordinary desktop or laptop computer!**
Download Trial or to order now, click here.
---
Pricing
We strive to price our software to fit almost any budget. But first, here are some comparative figures to give a realistic perspective:
Radio service monitors with built-in SINAD range from around $1,500 (older, used) to $8,000 and more for current models.

Used distortion analyzers can range from $400 to $1,200. New units typically cost $2,000 to $3,000.
Either way, you will need some sort of RF Signal Generator with modulation. HP 8640's are great, and plentiful on eBay for a couple hundred bucks. In a pinch, a synthesized transceiver tuned to the same frequency will do the trick. Use lowest power setting and connect a suitable dummy load to avoid interfering with others.
Order Here
** 30-Day Money-back Guarantee **
Safe, secure shopping with PayPal. You do *NOT* need a PayPal account.

Local, State & Federal Government Purchase Orders Accepted (contact us)
All prices in US Dollars (USD)

Commercial Use

ComTekk SINAD

Distortion Analyzer software

ComTekk SINAD (amateur)

Special non-commercial price for currently-licensed amateur radio operators only.

Protect your computer with ComTekk's exclusive 600-ohm isolator with DC blocking, "hot chassis" and surge protection. Also filters RFI and AC line noise!

Save $$ on our most popular bundle

Radio Tech PRO Pack

Tone Generator (full version)
SINAD Receiver Alignment Tool
Multi Decoder
CD-ROM Included (USA, Canada only!)
For ComTekk Software on burned onto a CD, plus postage to your location, add:
United States

Hardcopy (CD)

Get a Permanent backup: ComTekk Software burned onto a CD + activation key
Includes 1st Class Postage to any US or CA address.


$14.99
Special Discounts
Licensed Ham Radio operators are eligible for a discount, PROVIDED ComTekk SINAD is not used for commercial purposes of any kind.
To request a discount (or rebate), email:
All discount requests are subject to verification and approval. There is no guarantee of approval, so it's best to get approval BEFORE making your purchase.
IMPORTANT NOTES:
1. Your registration key will be delivered via the email address you entered in PayPal - normally within an hour of purchase.
2. ComTekk SINAD is not suitable for, nor intended for performance testing of high-fidelity audio equipment.
---
Audio coupling:

* Although not usually required when connecting receiver audio directly to sound card, use our Sound Card Isolators to protect your computer from RFI, ground loops or "hot chassis". The author assumes no liability for damages of any kind.


For more information on connecting to sound cards, click here.

**Recommended Minimum System Requirements:

Microsoft Windows 2000/XP/Vista™/ Windows 7, 8, 10
Pentium class or better CPU
2GB RAM
16-bit full-duplex audio device
An RF Signal Generator with modulation capability is required to test radio receivers. Some types of indirect measurements may require additional equipment.
---
We believe in giving back to those who made the ultimate sacrifice for their communites.
ComTekk is a proud supporter of the
National Fallen Firefighters Foundation.

---
Products | Downloads | Pricing | Order | Help | Subscribe | Contact | Privacy
---
---
Copyright © 2012-2016 ComTekk Engineering, LLC. All rights reserved