EAS & Weather Alert SMS/Email Notification Software
| | |
| --- | --- |
| | |
Get instant notification of Weather or EAS Alerts via text message
Alerts from typical smartphone apps and email subscriptions can often be delayed as much as 30 minutes. EASAlert sends email and text messages within seconds of their original broadcast. No need to carry a weather radio - just set up on home or office computer.
EASAlert provides supplementary Weather and EAS (Emergency Alert System) notification for First Responders, Emergency Managers, broadcasters, storm spotters, and anyone who needs immediate notification of Weather or Civil Emergencies.
EASAlert is an autonomous email/SMS-MMS alert notification system triggered by any programmable EAS or NOAA Weather Radio S.A.M.E. code.
Visual and audible local alarms get attention on site, and email and SMS (mobile text) alerts may be delivered to almost any mobile phone or computer within seconds.
Unattended operation
Receive text messages on mobile phone or PC
Records voice audio message
No recurring license fees (there may be a small charge for certain updates or upgrades - users are not required to update)
Instant replay of last message
Keeps a log of all alerts and audio recordings
Supports up to 1,000 users.
FCC Compliance verification for broadcasters
Works with most good quality scanners, receivers, and AM, FM, TV, weather radio, cable or satellite stations participating in the Emergency Alert System as required by the FCC.
EASAlert listens for user specified Event types and SAME FIPS (USA) or CLC (Canada) codes, then alerts users with audio/visual alarm and via email/text message (SMS).
<Buy Now>
How it works:
Simply connect receiver audio output or external speaker to computer's LINE (preferred) or MIC input, using a standard 3.5mm male-to-male audio cable.
A receiver with good audio bandwidth is required. Not all radios or scanners will provide the audio quality required to decode the SAME data signal. This is one reason we offer a 30-day free trial of EASAlert.
Applications:
SKYWARN / ARES / RACES
Fire/EMS/First Responders
Police & Security
Municipal or County services
Emergency Operations Centers
Law Enforcement
Broadcast Media
Schools
Offices
Hospitals
Malls
EAS Verification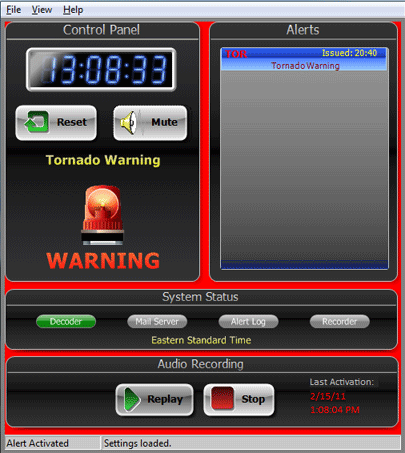 for use with Microsoft Windows XP/Vista/7, 8, 10
---
Ordering Information
** 30-Day Money-back Guarantee **

Safe, secure shopping with PayPal.
SOFTWARE:

3-units license

(up to 3 email/SMS recipients)

Free 30-day trial <download>

10-units license

(up to 10 email/SMS recipients)

$79

25-units license

(up to 25 email/SMS recipients)


50-units license

(up to 50 email/SMS recipients)


100-units license

(up to 100 email/SMS recipients)

For more than 100-units or to upgrade, contact us


OPTIONS:

CD Hardcopy, US delivery

Get a Permanent backup: Your ComTekk software and activation key burned onto a CD - includes 1st Class Postage to any US address.

Protect your computer with ComTekk's exclusive 600-ohm isolator with DC blocking, "hot chassis" and surge protection. Also filters RFI and AC line noise.

Recommended when connecting to base station equipment or twisted-pair lines.



Outgoing [SMTP] mail service
for high-volume users

Overcome limitations of public mail providers
Send up to 2,500 messages per month
Higher volume plans available, contact us

Free email providers, including GMX, Gmail, Hotmail, Yahoo, have very tight restrictions on the amount of mail that can be sent at once. This is intended to deter spammers, but does not discriminate between illegal or legitimate users. ComTekk has partnered with a mass mail provider to offer low-cost, high-volume outgoing email service for our customers.

Only $9.95/mo.
By purchasing or installing this software, you agree to the terms and conditions set forth in the License (EULA).
---
Email to SMS info:
http://en.wikipedia.org/wiki/List_of_SMS_gateways
http://www.makeuseof.com/tag/email-to-sms/
---
We believe in giving back to those who made the ultimate sacrifice for their communites.
ComTekk is a proud supporter of the
National Fallen Firefighters Foundation.

---
Products | Downloads | Pricing | Order | Help | Subscribe | Contact | Privacy
---
---
Copyright © 2012-2016 ComTekk Engineering, LLC. All rights reserved